a box of assorted macaroons from laduree
macaroon (
en.
), macaron (
fr.
), maccarone (
it.
)
I fell in love with baking sometime during high school. I watched marathons of the old Food Network stars... Sarah Moulton, Ming Tsai, and (of course) Martha Stewart. I became a bit of a cookie monster, constantly baking and nibbling on all sorts of concoctions from shortbread lemon "scotty" dogs to enormous glazed sugar cookies and crunchy chocolate chip cookies with coconut... fortunately I had quite a metabolism. I still have a sweet tooth, and I make it my business to find the best sugary confections everywhere I go... which brings me to the macaroon.
The delicious little European confections have a somewhat mysterious (and confusing) history, as the definition and ingredients vary depending on locale. Most Americans are familiar with the coconut macaroon, a super-sweet and dense confection of flaked coconut commonly dipped in chocolate. In Europe (France and Italy) macaroons are almond-flavored cookies or biscuits made from almond powder and meringue. They are light and fluffy on the inside with a flaky exterior... a work of art.
According to legend, the macaroon originated in an Italian monastery and was brought to France during the French Revolution by two nuns living in asylum known as the "Macaroon Sisters" who paid for their living expenses by selling the treats. Fact or folklore, Parisians are serious about their cookies. 
For the ultimate macaroon experience
Ladur
é
e,
 the historic tea salon, can't be beat... The establishment at 16 rue Royale in Paris dates back to 1862 and is where Louis Ernest Laduree first conceived the ganache-filled cookie. The shop is traffic jam of hungry locals and bewildered visitors... but it's worth it. The boxes are gorgeous (famous textile designer Tricia Guild of
Designers Guild
just designed a new line) and the cookies are spectacular. They are the perfect souvenir if you can avoid eating them on the way home...
inside the famous Laduree
traditional flavors:
chocolate, dark chocolate, vanilla, coffee, rose petal, pistachio, salted butter caramel, cherry amaretto, raspberry, orange blossom, and liquorice
special flavors:
lemon, praline, ice mint, coconut, grenadine, java pepper, indian rose, aniseed, champagne, orange-saffron, lily-of-the-valley, white amber, strawberry-poppy, gingerbread, candyfloss, havana, and muscovado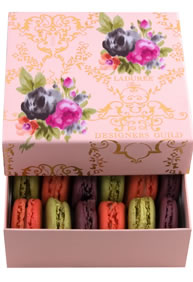 pretty packages by textile queen Tricia Guild